Upcoming Activities for Oregon Nikkei Endowment
Hidden Legacy: Japanese Traditional Performing Arts in the WWII Internment Camps
Sunday, November 30, 2014, 2pm

at the Hollywood Theatre (4122 NE Sandy Blvd, Portland)
Cost: $22 general; $18 seniors & students; $15 Friends of O.N.E.
Making its Portland debut, the new documentary Hidden Legacy: Japanese Traditional Performing Arts in the WWII Internment Camps tells the story of how traditional Japanese cultural arts were maintained at a time when the government emphasized the importance of assimilation and Americanization. Hidden Legacy is the first-ever major presentation of traditional music, dance, and drama in camps, and the remarkable roles played by the teachers of classical Japanese art forms.
This special, one-time-only event will include a short musical concert by master koto player Shirley Kazuyo Muramoto-Wong and Lita Kazuho Buttolph, a Japanese classical dance performance by the Sahomi Tachibana Dancers, followed by a screening of Hidden Legacy.
Following the film, attendees will have an opportunity to be part of a panel discussion with Hidden Legacy Creative Director and Executive Producer Shirley Kazuyo Muramoto and Sahomi Tachibana who is featured in the film.
Tickets may be purchased online through the Hollywood Theatre.
This event is co-sponsored by Productions by Hirahara. Learn more about Hidden Legacy at jcalegacy.com.


Holiday Pop-Up Shop
November 13 - December 24, 2014
Hours: Tuesday-Saturday, 11am-7pm; Sunday, Noon-5pm; closed Monday
11 NW 5th Avenue, Portland
Shop and support Oregon Nikkei Endowment at our holiday pop-up shop, Omiyage! Celebrate the tradition of gift giving and choose from Asian inspired gifts and crafts created by local artisans, designers and authors. Omiyage will feature jewelry, fashion and home accessories, cards, origami ornaments, arts and crafts, Anime-inspired merchandise, books by local authors and a selection of curated vintage items.
Oregon Nikkei Endowment is excited to have been selected to participate in the Portland Business Alliance and Portland Development Commission's PDX Pop-Up Shop project. The project turns Portland's vacant retail space into temporary shops that showcase local talent and encourage downtown shoppers to seek out unique gift offerings during the holiday season. Omiyage will share space with two emerging retail entrepreneurs: Draplin Design/Field Notes and North Street Bags.
Proceeds from Omiyage sales will support our local vendors and the programs, exhibits, and mission of Oregon Nikkei Endowment. Visit downtownportland.org for more information about the PDX Pop-Up Shop Project. If you are interested in volunteering at Omiyage, please contact Oregon Nikkei Endowment:
Phone: 503-224-1458


Exhibit Opening
Before Memories Fade: Uncovering the Story of the Kida Family of White Salmon
Opens to the public Saturday, December 13, 2014
Both heartbreaking and inspirational, Before Memories Fade gives voice to a family's story that was at risk of being lost forever. Using first-hand materials and community recollections, our all-volunteer exhibit committee has been able to walk in the footsteps of Kenjiro and Kay Kida and their son George. While the branch of the Kida family ended when George passed away in 1998, the memory of this family continues to be carried in the hearts of their friends and neighbors.
We invite you to join us on their journey from immigration, through World War II, to the end of a century. Along the way, find out how the road that led us to the Kidas intersects not just one Japanese American family but the American experience itself.

Resources & Services
Check out our Resources page to learn more about the Legacy Center's programs, which provide tangible reminders of the richness and vitality that ethnic minorities can bring to societies that hold sacred the rights of its citizens and regard as a blessing the diversity of its people.

---
Other Community Events
Please visit Discover Nikkei for more information about upcoming events in the area and around the world. Also visit the JROC calendar for more Portland-area events from the Japan-Related Organizations Coordinating Group:
Oregon Encyclopedia: Oregon History 101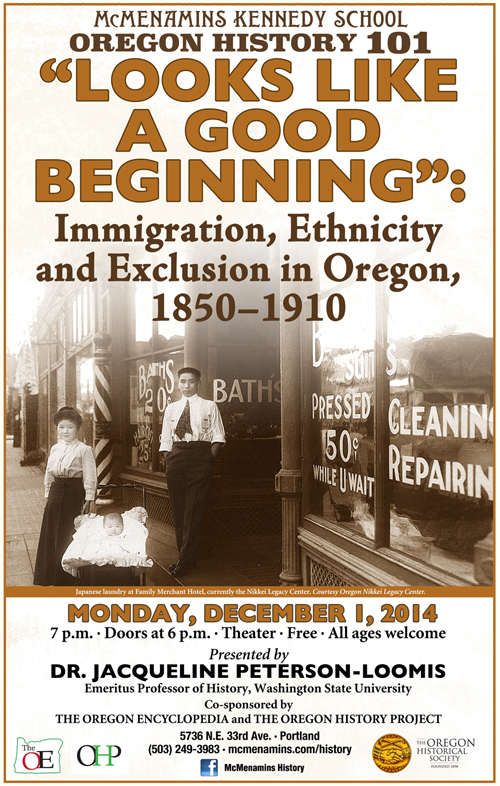 "Looks Like a Good Beginning": Immigration, Ethnicity, and Exclusion in Oregon, 1850-1910
Monday, December 1, 7pm
at McMenamins Kennedy School, 5736 NE 33rd Avenue, Portland
Free, all ages welcome
Presented by Dr. Jacqueline Peterson-Loomis, Emeritus Professor of History, Washington State University. Oregon History 101 is a nine-month public history program series designed to give Oregonians a basic understanding of the state's significant people, places, and events. Each month, historians will present a chapter of Oregon history, beginning with the earliest peoples and ending with the turn of the twenty-first century. The series will emphasize Oregon's connection to historical themes in American history, including Native history, early exploration, western expansion, race, gender, and social justice, and the post-industrial economy. Go to www.oregonencyclopedia.org to learn more about the Oregon History 101 series.

Lan Su Chinese Garden
Mum-vember
November 1-30, 2014
During November, Lan Su Chinese Garden will be packed with more than 500 potted chrysanthemums artistically displayed throughout the garden. More than 50 different chrysanthemum varieties will unfurl in all colors, shapes and sizes including: spiders, quills, spoons, regular incurves, irregular incurves, reflexes, semi-doubles, anemones, brush, thistle, exotics and more! Take in the oranges, reds and yellows of autumn to unusually bright pinks, pale lavenders, lime green, and even stripes of the chrysanthemum. Go to lansugarden.org to learn more.
Blossoms of Happiness Art Exhibition
November 1-30, 2014
The Blossoms of Happiness Art Exhibit features nine artists from the Oregon Women's Caucus for Art (OWCA). Utilizing a large range of media, the featured artists have created pieces especially for Mum-vember. Works range from traditional oil painting to the Chinese art form, fabric art, glass paintings and modern Chinese gong-bi paintings. Go to lansugarden.org to learn more.

Art Exhibit at North Portland Library
The Watcher Files Project
at the North Portland Library, 512 N Killingworth Street
October 27 - December 5, 2014
Artists Garrick Imatani & Kaia Sand have been in residence at the City of Portland Archives and Records Center (PARC) since 2013 and are presenting their selections from the work they have produced at a special exhibit at the North Portland Library from October 27 – December 5.
Working with PARC documents known as "The Watcher Files," a set of police surveillance files of activists and civic groups from the 1960s through the 1980s, Imatani and Sand created a series of artistic and literary interventions that serve as an addendum to the original files. The artists' work emerged from two threads of inquiry, "Where is anonymity within a public document?" and "Passing It On." Go to www.racc.org to learn more.

White Box at UO Portland
(Lost) In the Woods
October 25—December 6, 2014
24 NW First Avenue, Portland
Free and open to the public
(Lost) In the Woods is a multidisciplinary, interactive animated installation created by visual artist Shelley Jordon in collaboration with musician/composer Kurt Rohde. The piece explores the experience of being "lost" in the woods from the perspective of emotion, metaphor and the psychological. Spanning three galleries, the installations combine hand-painted animations, original artwork, and live-action videos with original music and sound. The paintings are activated with projected images and animations of various sizes and duration, as people walk to specific points in the installation. Additional animations appear in unexpected places, comprised of chance images accompanied by sound and music. Go to whitebox.uoregon.edu to learn more.

---
Past events:
Annual Banquet
Benefit for Oregon Nikkei Endowment
Sunday, September 28, 2014, 5pm
at the Multnomah Athletic Club, 1849 SW Salmon St, Portland
Cost: $125 per person
Join us in celebrating 25 years of Oregon Nikkei Endowment and honoring the interviewees of the Minidoka Oral History Project. Activities included a wine pull, silent auction, and music by the Minidoka Swing Band. The keynote speaker was Mr. David Ono, co-anchor for ABC7's Eyewitness News newscasts at 4 and 6 PM in Los Angeles. His recent documentary film, Witness: The Legacy of Heart Mountain about the World War II Japanese American incarceration camp in Wyoming, recently garnered three Emmy Awards at the 66th Annual Los Angeles Area Emmy Awards on July 26.
Thank you to our banquet sponsors: The Boeing Company, Perkins Coie LLP, Homer & Miyuki Yasui, and the Confederated Tribes of Grand Ronde. Also thanks to our banquet donors, including the Iwasaki Brothers Greenhouse, Tanasacres Nursery, Lan Su Chinese Garden, and many, many more!
Smithsonian Magazine Museum Day Live!
Saturday, September 27, 2014
at the Legacy Center
This year marks the 10th annual Museum Day Live!, an event hosted by Smithsonian magazine in which participating museums across the country open their doors for free to anyone presenting a Museum Day Live! ticket. Oregon Nikkei Legacy Center is a participating museum. Free admission to the museum during exhibit hours (11am-3pm) with the Museum Day Live! ticket. To learn more about Museum Day Live!, go to www.smithsonianmag.com/museumday.
3rd Annual Strawberry Golf Tournament
Fundraiser for Oregon Nikkei Endowment
Friday, May 30, 2014
at Langdon Farms Golf Club, Aurora
Cost: $125 per person
Gather your friends, family and coworkers, and join us for a fun day of golf to support the Oregon Nikkei Endowment at the Strawberry Golf Tournament!