Upcoming Activities for Oregon Nikkei Endowment
Art in the Open
Old Town Performance Art Festival
Friday, August 18, 11am–4pm, & Saturday, August 19, 11am–8pm
NW 3rd & Davis, Old Town, Portland
Free and open to the public
Art in the Open is a two day outdoor performance arts festival in Old Town Chinatown, featuring outdoor performances that engage the local residents and draw people in from all over the city. Performing artists will be scheduled at different locations throughout the district in front of businesses and on a main stage in the heart of Old Town on 3rd & Davis for performances on Saturday evening. Audiences will experience a wide variety of performances and actively engage in art. Vist pdxoldtown.org for more information.

Current Exhibit
American Obon: Dancing in Joy and Remembrance
Open to the public July 29 – October 15, 2017
Family Day – Saturday, August 26, 11am-3pm
Free and open to the public

First Thursday – September 7, 4-7pm
Free and open to the public
American Obon will trace the development of bon odori in North America through archival photographs, audio, and rare video footage on loan from the Iwanaga family, dance scholar Linda Akiyama, and Buddhist Churches of America. In addition, the obon tradition in Portland will be highlighted with photographs from Oregon Nikkei Endowment's Frank C. Hirahara Collection. Curated by Dr. Wynn Kiyama (Portland State University and Portland Taiko), this exhibit will be the first of its kind in North America. Visit our exhibits page to learn more.

Matsutake Hunt
October 21-22, 2017
Cost: TBD
For current and new Friends of Oregon Nikkei Endowment only
Join us on a field trip to hunt and gather Matsutake mushrooms on the Oregon Coast. This outing is especially designed for novices and is open to Friends of Oregon Nikkei Endowment.
The trip includes a guided matsutake hunt in the Oregon Dunes National Recreation Area, a Social Hour and salmon dinner on Saturday evening, breakfast Sunday, and additional mushroom hunting on Sunday (lodging in Yachats is not included).
More information will be available soon. Please contact Oregon Nikkei Endowment with questions or to sign up:
Phone: 503-224-1458


Minidoka Center Field Project
at the Minidoka National Historic Site
The goal of the Center Field Project is to re-construct one of the baseball fields at Minidoka and its supporting structures, including scoreboard, backstop, player benches, and exhibit panels.
Baseball played a key role in sustaining the Japanese Americans who were incarcerated at the Minidoka War Relocation Center from 1942-45. Many camp residents—youth and adults, male and female—played baseball or softball on one of the many fields throughout the camp.
Field-In-A-Day is based on the 1952 Farm-In-A-Day event on property that was part of the historic Minidoka site. Approximately 1500 volunteers built a two bedroom home, dug irrigation canals, built corrals, and planted crops — all in a single day. On Saturday, May 28th, individuals and groups joined Friends of Minidoka and park staff in rebuilding one of the baseball fields that were interspersed among the 44 residential blocks.
Support the Minidoka Center Field Project by volunteering for Field-In-A-Day, making a donation, or purchasing a special commemorative baseball (a portion of sales supports the Center Field Project). The baseball ($10, case costs extra) is available for purchase at the Oregon Nikkei Legacy Center. Please visit www.nps.gov for more information.

Resources & Services
Check out our Resources page to learn more about the Oregon Nikkei Legacy Center's programs, which provide tangible reminders of the richness and vitality that ethnic minorities can bring to societies that hold sacred the rights of its citizens and regard as a blessing the diversity of its people.

---
Other Community Events
Please visit Discover Nikkei for more information about upcoming events in the area and around the world:
Portland Hate Crimes Forum
Sponsored by Coalition Against Hate Crime
Saturday, August 12, 12:30-4pm
at the Oregon Jewish Museum (724 NW Davis St, Portland)
Free and open to the public
Oregon's Coalition Against Hate Crime, with the support of the Department of Justice's Community Relations Service, is presenting this forum to help educate our community on the impact and appropriate responses to hate crime. Community members are invited to participate and spend some time visiting the new Oregon Jewish Museum and Center for Holocaust Education. Download these flyers to learn more.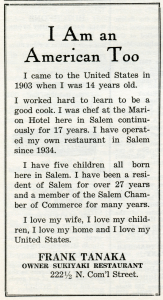 Willamette Heritage Center
Courage and Compassion: Our Shared Story of the Japanese American WWII Experience
July 14–September 23, 2017
at the Willamette Heritage Center in Salem

Traveling from the Go For Broke National Education Center, Courage and Compassion chronicles the story of the Japanese American experience during World War II and tells local stories of bravery and tolerance from the Willamette Valley. This interactive exhibit features images and audio of firsthand accounts, including interviews of Japanese American soldiers from the Go for Broke oral history collection. Go to www.willametteheritage.org to learn more.

Skosh
A Little Japanese Cultural Festival
Saturday, August 12, 10am-3pm
at Tsuru Island Japanese Garden, Gresham Main City Park

Featuring tea ceremony, origami, calligraphy, arts, crafts, food carts, and more. Visit www.greshamsistercity.org for more information.

Oregon Physicians for Social Responsibility

Remembering Hiroshima & Nagasaki: From Despair to Hope
Wednesday, August 9, 6pm
at the Japanese American Historical Plaza

The memorial event will honor the victims of the atomic bombings of Hiroshima and Nagasaki, highlight the current state of nuclear weapons, and provide opportunities for those present to get more involved and to take action for a world liberated from the dangers of nuclear weapons. Featuring human rights activist and writer Polo Catalani as emcee and musical performance by Portland Taiko. Immediately following the event, University of Oregon Portland campus is hosting a nuclear weapons-themed art exhibition and butoh dance performance led by artist and performer Yukiyo Kawano. Visit www.oregonpsr.org for more information.

Portland Japanese Garden
Kabuki: A Revolution in Color and Design

July 29 - September 3, 2017

The Kabuki stage provides exciting entertainment with music and dance performed by famous actors, who were the wildly popular celebrities of their day. Their brilliantly hand-painted and lavishly embroidered silk costumes exploded on stage in a riot of color. This summer brings a new direction to the Art in the Garden series when the Portland Japanese Garden explores Japan's most flamboyant and fanciful performance art through elaborate costumes in the exhibition Kabuki: A Revolution in Color and Design. Learn more at japanesegarden.org.

Lan Su Chinese Garden
Suzhou Summer
July 1- August 31, 2017
Enjoy a series of demonstrations and activities in the traditional arts of calligraphy, brush painting, and music. Suzhou, Portland's sister city in China's Jiangsu province, is famous for its beautiful gardens. Considered a "paradise on earth," Suzhou was China's most sophisticated metropolis from the 14th to the 19th centuries and was a city full of art and beauty. Lan Su Chinese Garden honors that history with this celebration of Chinese art and music. Learn more at www.lansugarden.org.

Architectural Heritage Center
Parting Shots: Minor White's Images of Portland, 1938-1942
Open March 3–December 23, 2017
Meyer Memorial Trust Gallery at the Architectural Heritage Center

Minor White (1908 – 1976) was one of the most important American photographers of the 20th century. Originally from Minnesota, White's professional career as a photographer began in Portland. Between 1938 – 1942 White was commissioned to document what amounted to the end of an era for some of the city's most important early architecture. Parting Shots will bring greater focus and attention to White's career in Portland, while also presenting through physical artifacts, the fine workmanship and materials employed by 19th-century architects and builders. Go to visitahc.org to learn more.

---
Past events:
Obon Dance Workshop
Saturday, July 29, 6-8pm
at the Japanese American Historical Plaza
Free and open to the public
To celebrate the opening of the new exhibition American Obon.

Return & Remembrance
A Pilgrimage to the Portland Assembly Center
Honoring those Japanese Americans who were unjustly incarcerated by Executive Order 9066
Saturday, May 6, 2017, 2-4pm
at Portland Expo Center, Exhibit Hall A (2060 N. Marine Drive), free parking for this event
Free and open to the public
Seventy-five years ago, on May 6, 1942, Japantown in Portland was empty of Japanese Americans by military decree. Families were uprooted, property sold, and local businesses closed. Those of Japanese ancestry residing in the local area upended their lives and moved into the former animal stalls of the Pacific International Livestock and Exposition Center. Four months later they joined 120,000 other Japanese Americans in ten hastily erected concentration camps across the United States.
Please join us as we return to the site of the Portland Assembly Center to honor those who were unjustly forced out of their homes and businesses, driven away by wartime hysteria and racism. Listen to the stories of Japanese Americans who were there in 1942 and how they came together despite great hardship.
| | |
| --- | --- |
| | The Tokio Sukiyaki House was located at 228 NW 4th Avenue, Portland. After the bombing of Pearl Harbor, the restaurant dropped "TOKIO" from its name in an effort to prove their American loyalty. Their efforts did not succeed, and the restaurant was shuttered when the owners and family members were incarcerated at the Portland Assembly Center. The restaurant never reopened. [ONLC 535, gift of Alice Y. Sumida] |
Program will include the following: Emcee David Ono, news anchor for KABC-TV Channel 7 in Los Angeles; Keynote speaker Dale Minami, civil rights lawyer and lead attorney for Fred Korematsu's coram nobis legal team; performances by Unit Souzou and Minidoka Swing Band; exhibit Architecture of Internment: The Build Up to Wartime Incarceration, created by Graham Street Productions; George Nakata, former internee with stories of life as a young boy at the Portland Assembly Center; Chisao Hata'sTag Project; Weston Koyama, a fourth generation Japanese American and the first Minoru Yasui Fellow at the University of Oregon School of Law.
Race and Place: Old Town's Chinatown and Japantown Through Chinese American and Nikkei Eyes
A Series of Public Conversations: Part Two
Wednesday, May 3, 5:30-7:30pm
at the Oregon College of Oriental Medicine, KPC Community Room
(75 NW Couch Street, Portland)
Free and open to the public, light refreshments will be served
Chinese and Japanese American community elders will share their stories about growing up, living, and working in adjoining quarters called New Chinatown and Japantown between the 1920s-1960, in what is now known as Old Town Chinatown. The variety of perspectives offered by the elders will shed light on the ways that the neighborhood's Chinese American and Nikkei communities diverged and intersected with each other at different moments. The elders' dialogue will be followed by an open and lively discussion between panelists and audience. Race and Place, a series of public talks to explore Old Town's multiethnic past, is organized by the Portland Chinatown History Foundation in collaboration with the Oregon Nikkei Endowment. The series is sponsored by the Oregon College of Oriental Medicine. Visit www.portlandchinatown.org to learn more.

5th Annual Cherry Blossom Bazaar
A Rummage Sale of Japanese Treasures
Saturday & Sunday, March 11 & 12, 2017, 10am-4pm
127 NW 3rd Avenue, Portland
Shop 'til you drop! This is a unique sale of Japanese collectibles, artwork, dishware, furniture, and more. Items start as low as 25 cents! Something for every age, taste, and budget! All proceeds benefit Oregon Nikkei Endowment.